How to Flatten PDF Files
GoodReader can flatten* PDF annotations for you. This process finalizes the PDF so that the annotations become part of the document content and cannot be easily edited any more. Use this feature before sending a PDF away to imprint your notes, drawings, and signatures into the original PDF page contents.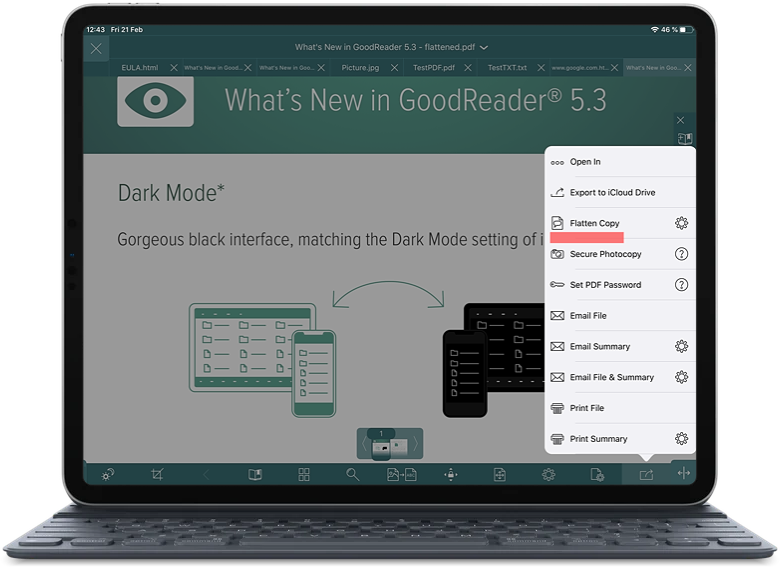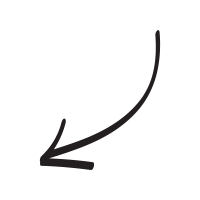 PDF Annotations such as notes and drawings designed to be editable and removable items on top of the standard PDF page contents. However, there may be problems with this approach:
Sometimes you don`t want the annotations to be editable or removable. For example, you probably don`t want this for a drawing of your signature on a PDF document.
Some mobile PDF viewers may fail to display annotations correctly, or at all.
In this case, you may want to convert your annotations into the standard graphical contents of the PDF page, making it an integral and non-separable part of the rest of the page`s graphics.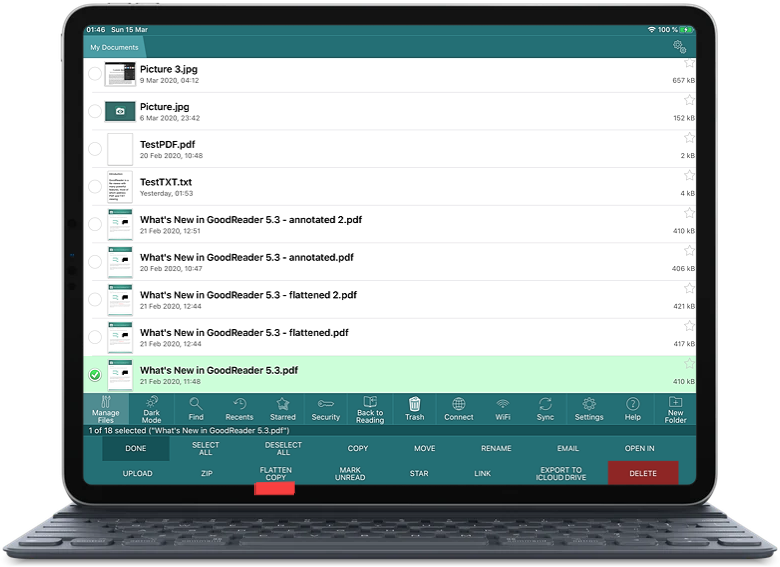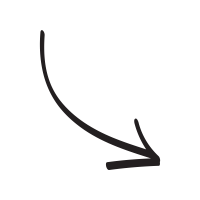 This process called Flattening. You can flatten your PDF through the Actions menu when the file is open, or through the Manage Files menu on the main screen.
For your convenience, every time you`re exporting a PDF file outside GoodReader, the app offers you a choice of how to export it - either as-is or flattened.
In the main app Settings, you can set the switch to disallow the subsequent unflattening of the file. Please note that this switch is only respected by the GoodReader app. There is no guarantee that other PDF editors will respect that restriction. However, it is also worth mentioning that other apps rarely, if ever, offer an option of unflattening at all.
* Flatten PDF is a part of Pro Pack.
Getting Better All the Time

Best app for organizing iOS files that I have found. The included features are especially helpful for organizing & reading PDF`s. I like that I can highlight text, add notes, and draw shapes, like arrows. There is only one thing in my humble opinion that would make it even better, and that would be to have a built in scan feature. That way you could easily scan & convert images to pdf`s within the app rather than having to use some other third-party app. Thank GoodReader for helping me to keep my files organized!!
Contact us by e-mail. We're always happy to read your suggestions for improvements and new features, and to answer your questions:
E-mail: support@goodreader.com