GoodReader Data Security: Military-Grade Encryption
GoodReader can encrypt* all your files and folders with Military-Grade AES-256 Encryption. This encryption works independently of the standard device encryption that is unlocked with the device passcode. So even if your device gets stolen and unlocked by a hacker, the GoodReader`s built-in encryption will still hold. It's like a vault within a vault!
If you open the Settings → Security Settings → Encryption & Passwords Setup dialog, you will find a choice of the following 4 Data Security options: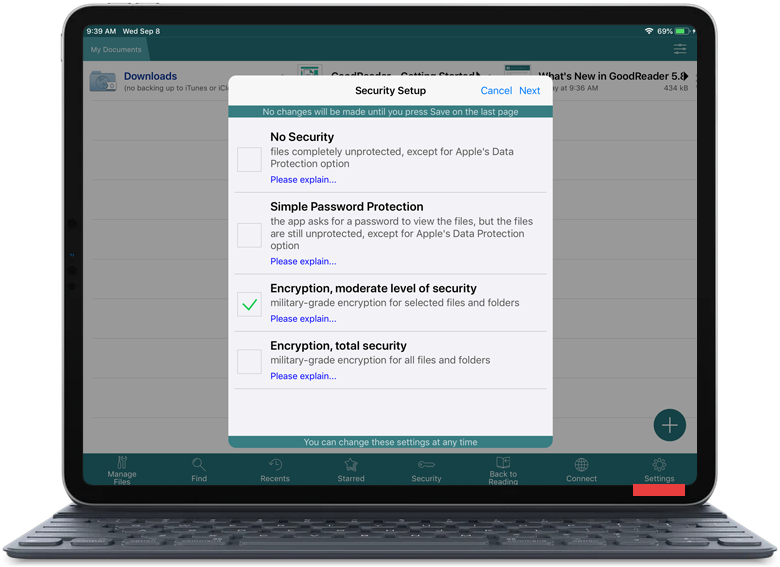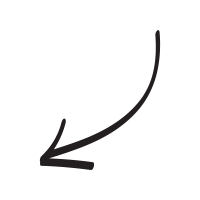 No Security. This is the default state of the app. This is how it was first installed on your device — no passwords to open the app or individual folders, no encryption. Choose this option if you for some reason no longer require data security, and no longer wish to enter a password to launch GoodReader or open files and folders.
Simple Password Protection. GoodReader won`t launch unless you enter an App Unlock Password, but the files and folders will still be unprotected. They could be retrieved from the device via a USB cable, or opened from the pre-installed Files app. However, there is some degree of protection that this option offers. The thing is that GoodReader is more than just files. For instance, you could have set up an access to a remote server where your confidential data may reside. So unless you know the App Unlock password, GoodReader won`t launch and you won`t be able to access those servers through the app.
Encryption. Here you have a choice between Encryption, moderate level of security and Encryption, total security. This feature is a part of our Pro Pack.
The Encryption, moderate level of security option only encrypts those files and folders inside My Documents that you have specifically marked as Protected. You use the Manage Files button on the main screen to do that. Protected files and folders will be encrypted with the military-grade AES-256 encryption. A File Unlock Password will be set up on one of the next screens. In addition to the File Unlock Password, you can also set up an App Unlock Password. It will be asked at every launch of GoodReader. Like with the Simple Password Protection option, this password won`t add much to the security of your files, but it will protect your remote server connections from an unauthorized use.
The Encryption, total security option will encrypt all your files in GoodReader. With the exception of a couple of special folders such as iCloud and Unencrypted. The Unencrypted folder will be created specifically for file exchange with the outside world. All files dropped into your device on a Mac computer connected via a USB cable, or sent to GoodReader from another app via a Share menu, or AirDrop, will end up in the Unencrypted folder. They will be clearly and noticeably marked as unencrypted. From there, you can move them to the encrypted zone.
A few important things to note:
Two Encryption settings allow you to set up an Email Recovery option for your passwords. If you forgot your passwords, you can restore them via a designated email address. This is a less secure option, but at least it will allow you to restore your data if you can`t recall your password. If you haven`t set up a recovery email for your passwords, and you forgot them, that`s it for your files. There is no restoration without the password. We don`t secretly store it anywhere for cases like this. Your only option in that case would be to delete and reinstall the app in its initial passwordless state, losing all your files in the process.
So if you choose a more secure option with no password recovery via email, make sure you backup your important files somewhere outside your mobile device. And, as a matter of fact, do that even if you have a recovery email set up! Sadly, losing a phone is not that uncommon thing to happen. And that`s precisely the moment when you`ll be thanking yourself for having a backup.
The Simple Password Protection setting doesn`t have an Email Recovery option.
If you choose to have no data security in GoodReader, you can still use the No Security option in this dialog to access an important switch that excludes audio files from the Apple`s Data Protection. This switch will be shown to you on the next screen, no matter which security option you choose, even No Security.
Important
As you choose security settings, detailed explanations are included in the app about each setting. Please read them so you understand each option's benefits and limitations.
* Encryption is a part of Pro Pack.
Excellent iOS document multi tool.

UPDATE: Working great in iOS 11, including popover and split screen.


If you use your iPad for any serious reading or reviewing of documents, buy GoodReader immediately. It`s power in managing documents will allow you to get to pretty much any storage service, and the powerful markup tools will make a quick job of reviewing and editing.


My power tip: once you`ve reviewed a document, GoodReader can send both the marked-up document *and* a summary of your markup via email in one click. Makes document review a breeze.
Contact us by e-mail. We're always happy to read your suggestions for improvements and new features, and to answer your questions:
E-mail: support@goodreader.com