Other File Types: Buttons & Controls
For file types that are not covered by our advanced viewing engines, we use a standard built-in viewing engine, which should be familiar to you from your Safari application experience. When you open any file in Safari, you activate the same viewing engine that we use for the following file types: video file formats - .mov, .mp4, .m4v, .3gp, .mpv, Microsoft Office files - Word, Excel, PowerPoint, HTML files and Safari web archives, iWork files - Pages, Numbers, Keynote.
Please note that the built-in viewer doesn`t support large MS Office files. If your MS Office file crashes built-in viewing engine, we suggest to convert it to a PDF file.
If you want to close the file, tap the small "x" on the right side of the tab displaying the file name. If you want to close the file viewer without closing the file, tap the large "X" in the top left corner of the screen to go back to the file list.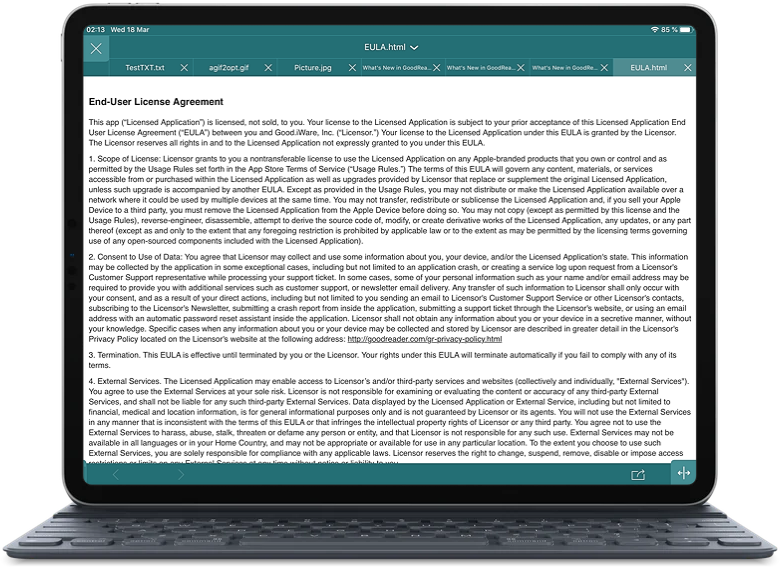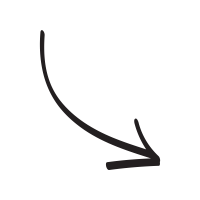 About the menu:
GoodReader offers several modes for the main menu when reading files:
Auto-hiding menu
Auto-hiding menu with the status bar on
No auto-hiding for the main menu
You can select one of these modes by opening a mini-menu at the bottom-left corner of the screen - there`s a small handle in the corner which you can drag to open the mini-menu to select the auto-hiding mode.
In any mode, you can always show or hide the main menu manually by quickly tapping in the middle of the screen.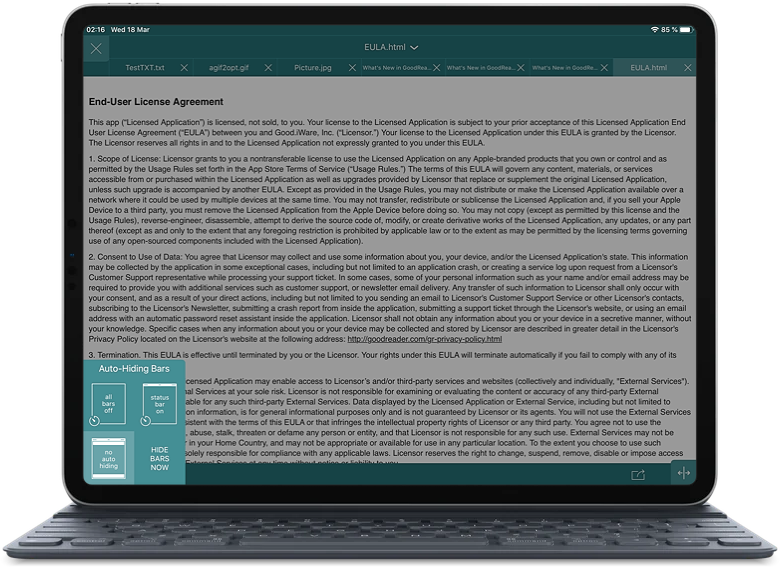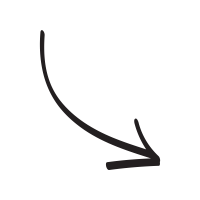 Tap on the current file name to open the list of recent files. You can also use this menu to quickly rename or delete the file, or assign a star to it.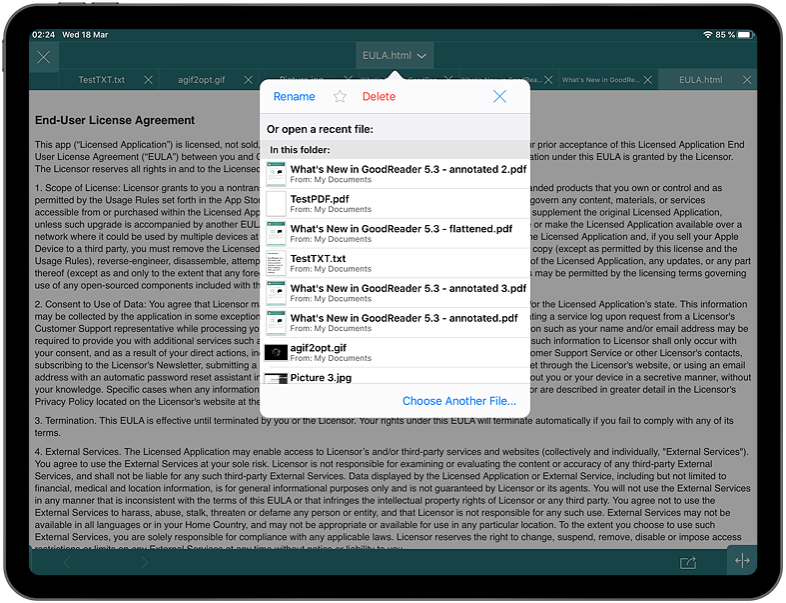 Use the File Tabs panel to quickly switch between recent files.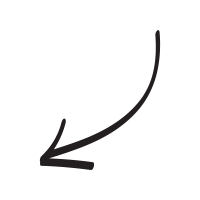 Use the Split Screen (Pro Pack only) button to split the screen in two (iPad only).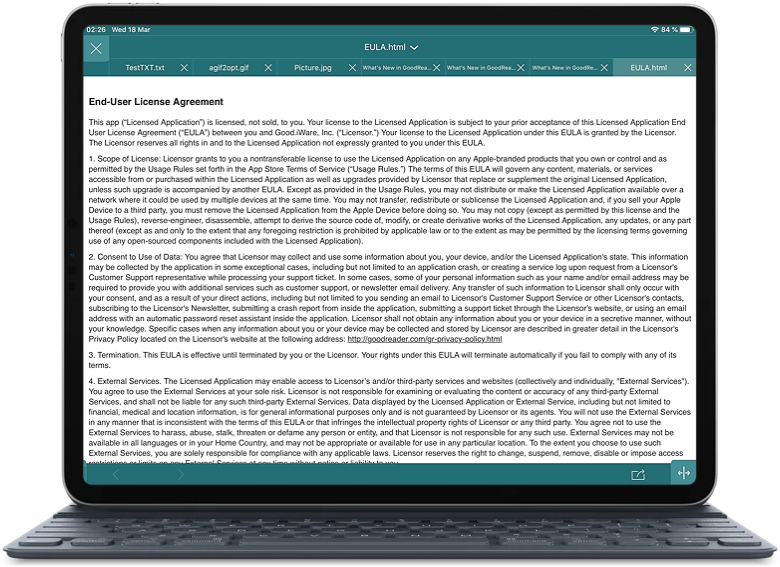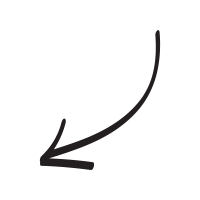 Actions. Offers a choice of actions for the currently opened file - Open In, Export to Files, Email, Print, Convert to PDF (Pro Pack only).
For Email, Print, and Convert to PDF, the app will allow you to select several pictures at once.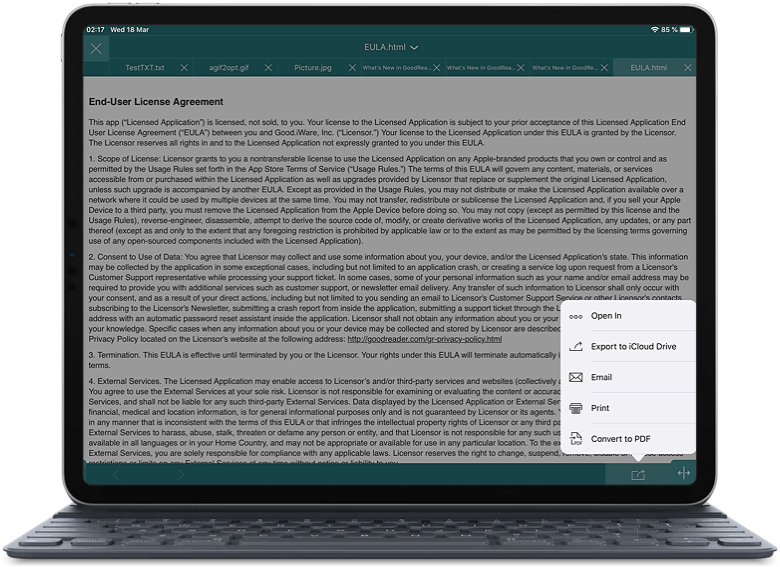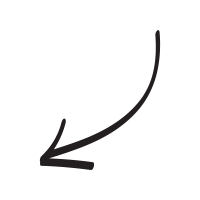 If I was given the choice to pick only one app for my phone, this would be it!!!!

This is my go to app for almost everything. Advanced iPhone users would appreciate its versatile features. I use this to read/edit all sorts of different file formats such as PDFs, word, ppt and excel documents. Also use this app to play different media files such as FLAC AAC and MP3 format. And you can SFTP to devices that can only be accessed by ftp. Even can connect to different cloud services such as Gdrive, Onedrive, Box, Dropbox, etc. Worth every $$$
Contact us by e-mail. We're always happy to read your suggestions for improvements and new features, and to answer your questions:
E-mail: support@goodreader.com