GoodReader Securely Sending Files & Folders
If you need to email a confidential file, you may want to take additional security steps to protect your data, since emails are basically sent in an open form and are easily intercepted.
GoodReader offers you two options to secure your data sent through the public channels:
Creating a ZIP archive with strong AES-256 encryption and password-protection. This can be done via the Manage Files menu on the main screen of the app.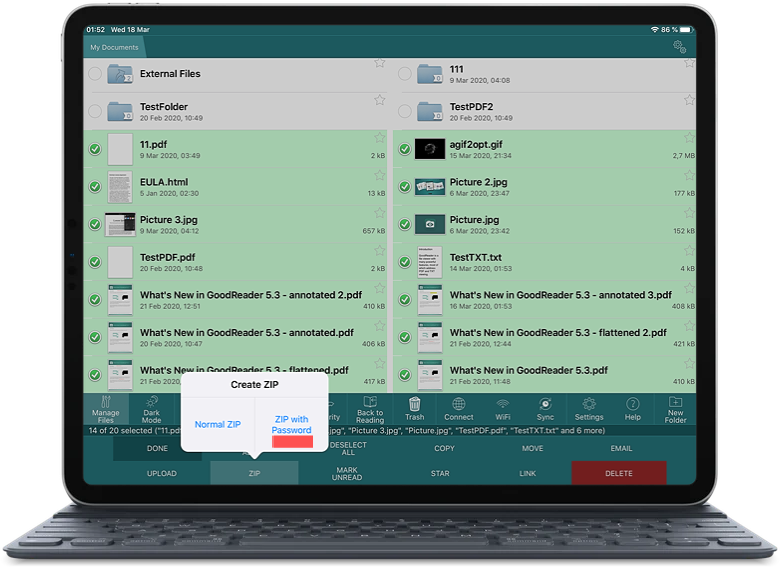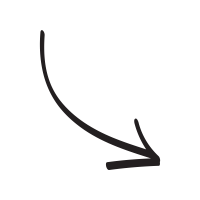 Adding strong AES-256 encryption and password-protection to PDF files. This can be done by opening an unprotected PDF file and pressing the Actions button. In that menu, select Set PDF Password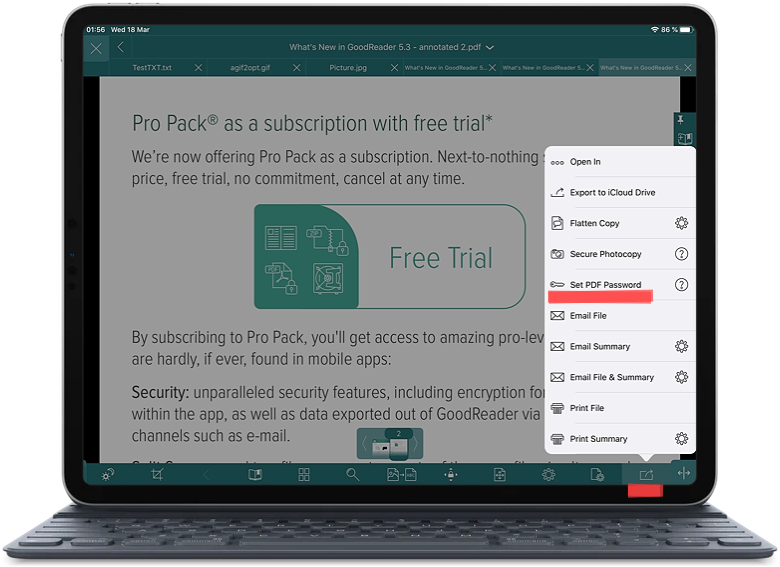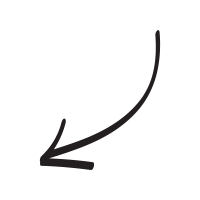 GoodReader can also help you upgrade old password-protected PDF files with weak encryption by re-encoding them to the strong AES-256 encryption standard. If the app detects a weak encryption in a PDF, it will tell you about it the first time you open such a file, and also put an "Upgrade PDF Password" item on the Actions menu.
This feature is a part of Pro Pack.
Good Reader

This is a wonderful app. I`m a knitter and love putting my PDF knitting patterns on Good Reader. I can annotate, leave notes for me, and mark charts so that I can keep tracks of where I am at all times. When I put my knitting down for a while, I can come right back to the spot where I left off. No tape to dry up and slip to another line of the pattern. All markers are right where I left.


I also use this app to store all kinds of travel information. This is simple to use and I keep discovering new things I can do with it. Love it!!!
Contact us by e-mail. We're always happy to read your suggestions for improvements and new features, and to answer your questions:
E-mail: support@goodreader.com